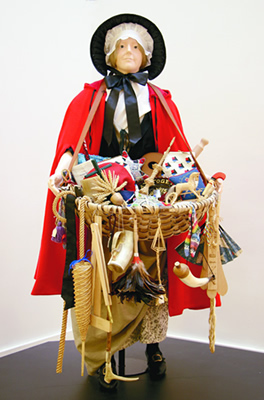 Notion Nanny is a collaborative touring project in which Allison Smith takes on the role of an itinerant apprentice traveling through rural and urban districts in search of traditional skills and revolutionary dialogue. Through a series of residencies and exchanges, Smith builds a temporary guild, a platform for discussion, and a sculptural installation, which together form the basis for a cumulative traveling exhibition making stops in Cumbria, London, Shropshire, North Adams, Mass, and Berkeley, CA.
The genesis of this project was Smith's research into the historical phenomenon of peddler dolls, or "notion nannies,' popularly displayed in British and American households during the Victorian era. Traditionally dressed in a red cloak and holding a basket overflowing with miniature wares, the peddler doll commemorated the disappearing social custom of itinerant traders traveling the countryside, their baskets containing a tiny world of 18th Century material culture including examples of numerous craft traditions such as ceramics, tin ware, printmaking, and needlework.
As a part of the exhibition, Smith has re-created the peddler doll, life-size and in her own image. The doll's basket is a repository, filled with wares made by Smith in collaboration with local artisans, tradesmen, and craftspeople she meets along the way. Distributing handbills "door-to-door" and making contacts through word-of-mouth, Smith, as Notion Nanny, seeks to engage self-described traditional makers in a dialogue about their relationship to political and social histories of making. Thus, the doll and her basket stand side-by-side with Smith's own activity, offering up larger metaphors and questioning assumed "notions' about art and craft in contemporary life. As the re-imagined personification of a village character type, Notion Nanny tells the anthropological folktale of the contemporary artist, "post-studio," peddling ideas and objects as well as crossing borders and advancing dialogue in a global art market.
At Berkeley, Allison Smith will use the MATRIX gallery as her base of operations throughout May, seeking collaborators to create handmade crafts of all sorts that will accumulate over time in the gallery. From radical quilting bees and collaborative artists' zines to traditional papermaking and ceramics, the project will survey a broad field of current material culture in the Bay Area. As a social project of working, exchanging, and sharing, Notion Nanny will provide opportunities for the public to interact with Smith and her co-conspirators in their process of making. The exhibition will also include newly created textile works that illustrate the project's context and background, and a repository of objects created during Notion Nanny's travels in the U.K. and the U.S., offering a counterpoint through which to explore the role of place in the differentiation of culture and craft.
Notion Nanny was conceived originally with London-based curatorial team B+B, Sarah Carrington and Sophie Hope, and appears in California as part of the MATRIX series of contemporary art exhibitions at Berkeley Art Museum.