Tea Time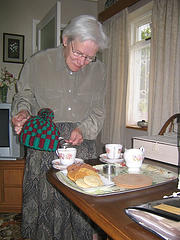 Elizabeth Serving Tea
Originally uploaded by notionnanny.
This afternoon I went to visit Elizabeth Prickett and her husband at their home in Torver. "Have you lived here long?" I asked. "Well I was born right there," Mr. Prickett said, pointing through the picture window to a cottage framed by rolling green hills. We had a pleasant conversation over tea and biscuits while Elizabeth explained that she is only the fourth in a matriarchal lineage of women who have been teaching a type of lace worked into linen known as Ruskin lace. She was an important figure in making sure the technique was officially recognized as independent from all other similar lace forms, though in my opinion it should in fact be called Twelves Lace, because its real inventor was Marian Twelves, who was Ruskin's friend Albert Fleming's housekeeper. Anyway Elizabeth has been teaching Ruskin lace for over thirty years, and has written an informative book on the subject. Her work is on display at several local museums and she and some forty other women once created a Ruskin lace sampler for the Victoria and Albert Museum.