Old Clothes to Mend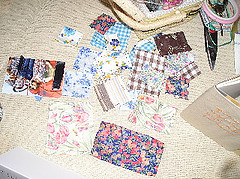 Jill Wignall's Patches
Originally uploaded by notionnanny.
Jill Wignall offered a patch sewing service to anyone needing to mend their clothing, which was quite popular, despite the lack of holes, rips, or tears. Liberty of London fans will understand why the patches were requested for primarily cosmetic reasons.