A Ruskin Lace Sampler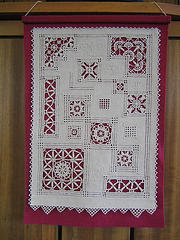 A Ruskin Lace Sampler
Originally uploaded by notionnanny.
This is a picture of a Ruskin lace sampler by Elizabeth Prickett. I had seen a similar one in the foyer of her home, which stays in my mind. Embroidered on it is a poem that reads,
'Grant that I may see the Stitch until my dying day.
When the last thread is snipped and scissors tucked away.
The work I have done lives on so other folk can see.
The pleasure I have known in the skills given to me.'
The poem is an adaptation of 'The Needlewoman's Prayer' by - anon., given to
her many years ago by a student. She says, "The piece of work was my millennium effort and also represents thirty years of my teaching Ruskin Lace."