What Are Sewing Notions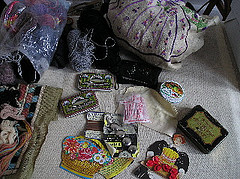 Debbie's Sewing Notions
Originally uploaded by notionnanny.
In the U.S. we use the word "notions" when refering to sewing items like buttons, thread, needles, etc. Debbie Flatt brought some wonderful notions to the Notion Nanny tea party, including a set of red buttons presented as the contents of a Notion Nanny-esque lady's tray.