Queen Dorothy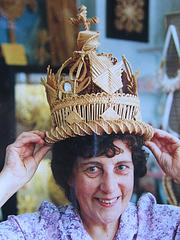 Queen Dorothy
Originally uploaded by notionnanny.
Today I went to visit Dorothy Horsfall, who has dedicated much of her life to straw craft. She had begun using various craft techniques in her work with prisoners and psychiatric patients over thirty years ago as an occupational therapist. In the context of an in-service course for teachers in the 1970s, she met straw expert Lettice Sanford, who held summer schools at her home in Hertfordshire called Eye Manor. Dorothy studied with Ms. Sanford, and then later with Minnie Lambeth and Fred Mizen. For many years Dorothy was on the list of speakers for the Women's Institute and the Townswomen's Guild, longstanding organizations that serve women in rural and urban districts, respectively.
This is a picture of Dorothy in the early 1990s wearing a crown made by Ruth Wylie of Hampshire. In the background you can see the interior of the museum dedicated to straw work that Dorothy opened in Coniston, which unfortunately no longer exists. Along with several of her straw world colleagues, Dorothy also founded the Guild of Straw Craftsmen, which remains alive and kicking today.