Slipware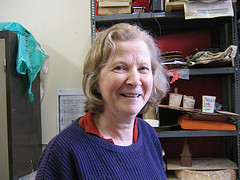 Prue Cooper
Originally uploaded by notionnanny.
I spent a lovely day with Prue Cooper, a potter in East Putney specializing in slipware, the name given to ceramics decorated with trails of liquid clay, called slip. I found Prue by looking on the Art Worker's Guild website (see next post).
I visited Prue in her studio, and we had a great conversation about books and museums and things that make our hearts leap. For her, it is 19th century brass love tokens in the shape of a shoe, and for me, it is often, well, slipware ceramics. The dribbles, dots and delicious chocolately marblizing just kills me.
Prue brought in her beautiful vintage copy of Barbara Jones's The Unsophisticated Arts (1951), which like the other books I have mentioned from the same period, describes English popular and traditional arts and is filled with drawings by the author. A special characteristic of this book for its age is that includes examples of unexpected things like tattooing and candy sculptures.