Endangered Printing Process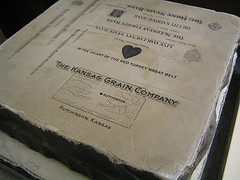 Bavarian Stone in Kansas
Originally uploaded by notionnanny.
Did you know that Bavarian litho stones are extinct? The quarries are depleted. That means that the ones that are out there in the world are the last ones left. Each time a print is made, the stone is sanded down for reuse, so even those won't be around forever. And what's worse is that as a lot of print shops around the world are closing down, the stones are being thrown away.