Black:White Magic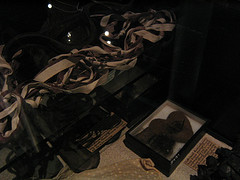 Black:White Magic
Originally uploaded by notionnanny.
Pitt Rivers Museum is very dark, so dark that you must use a flashlight to see the displays.
Many of the labels are handwritten. This one says, "Magic Cord__ black and white tapes about 6 ft. long. Knotted together at intervals (23 knots in all). Each knot is stuck with a black and a white pin. This was found in a mattress at 43 Strada Meszool, Valetta, Malta. It was inserted through a hole at the foot and pushed through stuffing to the centre. Believed to be the work of a dismissed servant. 1907."
Below, "Cloth heart stuck with pins and hair and nail pairings found in Greybeard jug 10-11 ft. below street level in bed of old mill stream course, under corner of Tufton St. at Gt. College St., Westminster in damp soil. 1904"