Anarchist Poetry Charger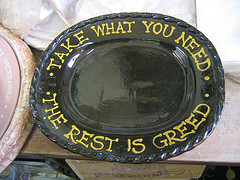 Anarchist Poetry
Originally uploaded by notionnanny.
This slipware charger was made by Prue Cooper and has a great story attached.
Prue happens to be the sister of Heathcote Williams, the legendary anarchist poet and one-time organizer of the Ruff Tuff Creem Puff Estate Agency for squatters, founded in 1974 in the Notting Hill section of London.
Upon the happy occasion of selling one of his poems (for £100 which in those days was a lot of money), Heathcote had an idea for how his earnings could be shared with the other residents of his squat. He took the money to the bank and exchanged it for a sack of small change. When he got home that day, he poured the change into a large bowl on the kitchen table. And this is the sign he posted on it: Take what you need, the rest is greed.
(In case you are wondering, the money was gone by that evening.)