Handmade Nikes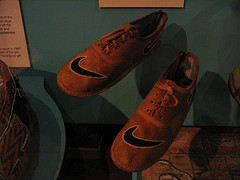 Moose Hide Nikes
Originally uploaded by notionnanny.
This was probably the best thing I saw at Pitt Rivers Museum in Oxford. It is a museum of anthropology connected to a natural history museum, curiously organized into sections like string and rope, or objects incorporating body parts.
Someone stitched these out of hand-tanned moose hide. The swoosh is beaded.