The Book of Straw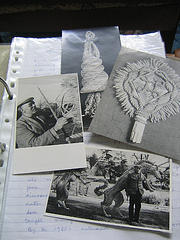 Dorothy's Book
Originally uploaded by notionnanny.
I spent all afternoon with Dorothy Horsfall looking at the research she has done for a book on straw craft. From the story of Rumplestiltskin who spun straw into gold, to pagan goddess worship and Demeter, Greek goddess of all vegetation, from the history of 19th century straw plaiting schools in the English hat industry that would employ girls starting from age three, to Napoleonic prisoners of war (1796-1816) who would create elaborate works of straw marquetry using the interior contents of their mattresses, we covered a lot of ground. Dorothy showed me examples of typical straw work objects, such as Lancashire oak fringe, which once formed the curtains along church windows, to Welsh border fans and spun straw Swiss lace. "You've got me on my hobby horse," she said, and indeed she is an endless resource on the topic of straw. We decided to make a date for me to return and learn some plaits.
Pictured here are some photos of Dorothy's teacher Fred Mizen with his enormous straw animals.