Car Boot Nanny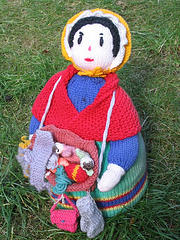 Car Boot Nanny
Originally uploaded by notionnanny.
If you asked me today what my favorite thing about England is I would say the car boot sales, which are basically a kind of flea market in which people drive their cars out into a field and simply open up the trunk and sell the contents. I found this knitted peddler doll at one of two car boot sales I visited today in Beetham and Silverdale. Entirely hand-made, it cost 50p, which is the equivalent of less than $1.
I also found a tool for making hook rugs like ones I had seen at the Armitt museum. It was labeled "oak fid" and has the initial "A"carved out of it.
After the car boot sales, I went to the Torver Garden Center Show, arriving just in time to see the awards being given for the most perfect vegetables, flower arrangements, and baked goods.