BBC Radio Cumbria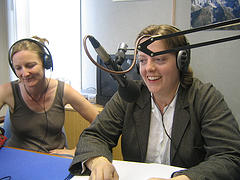 BBC Radio Cumbria
Originally uploaded by notionnanny.
Today was a great day. I got up early and drove with my partner Daphne to Kendal, where I had a 9:40 interview with BBC Radio Cumbria. After less than a second in the studio, the headphones were on and I was speaking to Val Armstrong, whose morning radio show used Donovan's "Mello Yellow" as its background theme music. Although we did speak for a full ten minutes about Notion Nanny's past, present, and future aims, the main thing I remember about the interview was how she referred to me as a "lucky girl." Indeed. "How would you like," she asked her listeners, "to be paid to travel the country for a year just watching people?" Not exactly, well I hope I made it clear that I am trying to do more than that.
After the interview we went to visit the Quaker Tapestry, a community-based embroidery project depicting 300 years of Quaker insights and experiences in narrative crewel work on 7 panels of specially woven cloth.