Room 50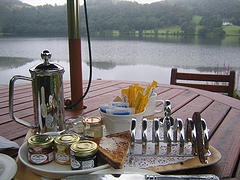 Breakfast by the Lake
Originally uploaded by notionnanny.
Today I walked over to the Prince of Wales Hotel and ordered a cup of coffee at the restaurant. "What room are you in?" the waiter asked. "Oh, uh, I am staying across the street at the Wordsworth Trust," I replied. "Well don't tell anyone," he said under his breath, "or else you would have to pay." What a pleasant surprise, I thought, though I would have been happy to pay. He walked me out to the garden and set my tray on a table by the lake. "If anyone asks," he said, "just tell them you are in Room 50." How luxurious. Like being a tourist.