Wicker Man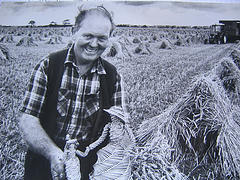 Bill Hodge
Originally uploaded by notionnanny.
This is a picture of Dorothy's straw supplier Bill Hodge, holding some of her early corn dollies.
We called Mr. Hodge to see if he had any wheat for sale (Dorothy just calls it "corn"), but he said it hadn't been harvested yet, and anyway so much rain this year had dirtied it.