Historical Market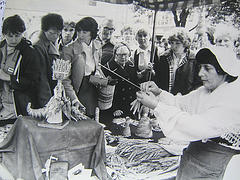 Historical Market
Originally uploaded by notionnanny.
Inspired by her discovery of an obscure King's Charter from the year 1111 that granted the people of her region the right to hold a public town market for buying and selling goods, Dorothy revived the tradition with an outdoor historical crafts market in which people could peddle their wares whilst demonstrating their craft in period costume.
This is Dorothy demonstrating her straw craft skills at the Historical Market she started. When asked what she thought about the markets and shows of today, she said that the stalls are often too expensive and the good craftspeople won't go, "so it's all rubbish."