Dorothy with Samples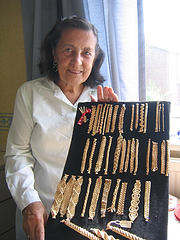 Dorothy with Samples
Originally uploaded by notionnanny.
This is Dorothy Horsfall today, holding a board with examples of many different braids or "plaits" one can do.
Dorothy used to have her own workshop and museum dedicated to straw craft. But now she lives with her son, and teaches classes in her bedroom.
We spent all day sitting by the window, chatting about straw and life in general. While I tried my hand at several different forms, Dorothy worked on packaging the straw earrings she makes. They remind me of Victorian mourning jewelry made of hair.