Red Rain Cloak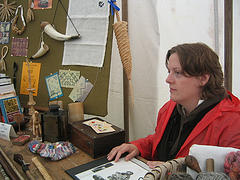 Sports Day
Originally uploaded by notionnanny.
This is me at my stall at the Grasmere Sports Day.
It was raining cats and dogs out. Quite literally in the case of dogs, since there were hound races in which herds of dogs ran straight down the sides of the steep fells, so enthusiastically in fact that it almost brought tears to my eyes.
I was sitting in the tent organized by the Wordsworth Trust. In front of me, there was a panel discussion going on. Behind me, on the other side of a canvas divider, was a broad sword battle.