New Place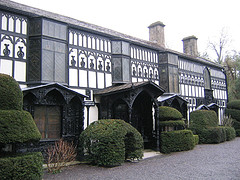 Plas Newydd
Originally uploaded by notionnanny.
During our first weekend in Oswestry, Sarah and I went to visit Plas Newydd ("New Place"), the home of the "ladies of Llangollen." I had always wanted to visit this cottage, where Lady Eleanor Butler and Miss Sarah Ponsonby had fallen in love and retired together in the late 1700s.
I had read a book on the ladies about ten years ago, and their story is like a fairy tale to me. Rather than being ostracized, they became the focus of curiosity and envy throughout the region.
The cottage is like a bejewelled black and white ginger bread house.