Pagan Goddess Wood Carvings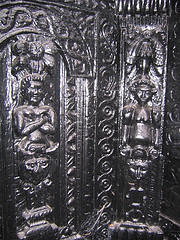 Pagan Goddess Wood Carvings
Originally uploaded by notionnanny.
Plas Newydd is encrusted with exquisite black wood carvings, depicting an eclectic mix of what appear to be goddess figures, winged angels, and Celtic symbols.
The figure on the right appears possibly pregnant, while the one on the left presses her breasts into her chest.
I would like to find out more about the carvings. It seems like whole books could be written to decode them.