Not For Sale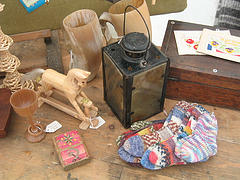 Souvenirs
Originally uploaded by notionnanny.
These are some of the objects I displayed at Grasmere Sports Day:
A turned wood goblet with a ring around its stem, by Michael Booth.
A mysterious papier maché box with straw marquetry compass rose and hammer-and-sickle insignia, with hidden pictures and a handwritten message inside. (Found at a car boot sale.)
An anonymously hand made carved wooden hobby horse with glass eyes and real hair, which I bought for the meager sum of £2.75 at the Hawkshead Show.
Two carved horn ale mugs and a lantern made by Peter Hodgson.
Some beautiful knitted socks and mittens made by Rachel Erwig.
Two embroidered postcards apparently made by convalescent soldiers or the groups of women looking after them during WWI. The flowers are embroidered in the colors of the flags of warring nations.
A wooden collection box I found for £2 at a car boot sale. It has mother of pearl inlay on the top and a message inside that reads, "M. SWIFT, Crossroad, Ipswich, 1851."