Souvenirs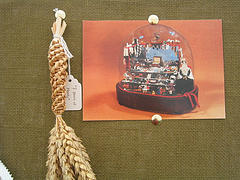 Peddler Doll Postcard
Originally uploaded by notionnanny.
On the left is a "7 Years of Plenty" braid incorporating seven straws that I made with Dorothy Horsfall. The name comes from a Biblical passage about Joseph interpeting Pharoah's dream in which seven lean cows devour seven fat cows, foreshadowing seven years of abundant corn harvest. The number seven is a powerful number in many religious mythologies, as well as in group dynamics, according to Grizedale Arts number one man Adam Sutherland. I gave one of these tokens to each of the members of the We are Seven commune.
On the right is a postcard of the peddler doll I saw at Abbott Hall in the Museum of Lakeland Life that Elizabeth Prickett had told me about. These two items were included amongst my wares at the Grasmere Sports Day.