Craft and Conflict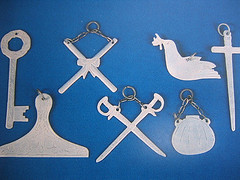 Masonic P.O.W. Charms
Originally uploaded by notionnanny.
At London's Library and Museum of Freemasonry, I saw these "jewels" made by Worshipful Brother J.R. Skipper, a WWII Prisoner of War at Changi Jail, Singapore from material salvaged from a bombed bus. They were used by the Royal Prince of Wales Lodge No. 1555, an impromptu lodge that met clandestinely in the prison camp and practiced Masonic rituals using books written from memory.
Such jewels are part of Masonic regalia indicating the rank and role of the wearer, and are worn for their symbolic significance during lodge ceremonies in which ritual morality plays are performed. Included in this collection is the badge of the almoner's purse, which is interesting considering the extreme conditions under which the lodge was operating. It is known that the lodge collected cigarettes and distributed them as a charity to less fortunate prisoners in the camp.
I was very happy to find a slim volume called "Craft and Conflict: Masonic Trench Art and Military Memorabilia" written by in-house curator Mark Dennis and Nicholas J. Saunders, whose book "Trench Art: Memories and Materialities of War" (2003) hugely inspired my practice as an artist.