Mother of Pearl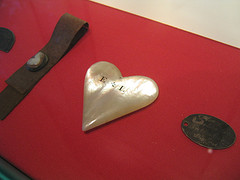 Mother of Pearl
Originally uploaded by notionnanny.
Something extraordinary happened today. I was out and about, having a lovely time. I had gone to the Columbia Road flower market, the weather was glorious, and I was in a wonderful mood. I called B+B curator Sarah Carrington, as she and I had intended to meet up at my place in the afternoon. She got sidetracked visiting with her mother, and asked if I could meet her instead at a museum that they had spontaneously gone to. Feeling up for anything, I headed over to the Foundling Museum, which Sarah said was something about the social history of children in London...
In the lobby I met Sarah, who, clearly moved by the museum, was busy becoming a member and buying a book. For some reason, really only connected to the idea of orphans, I asked her if she had read the blog entry on the NN web site about Rebecca Purcell's tokens of identity. She had not. So I began explaining them, and what they were inspired by, the man who had an orphanage and collected these tokens left pinned to children....and suddenly I realized maybe - could it be? that this was a museum about the same story, and just as I said it she said, "I just saw them."
Can you believe it?! Four days ago I am sitting in Rebecca's studio looking at the magazine article and today I saw the tokens themselves. The red heart, the mother of pearl tag, the string of seeds, the paper tag edged in black ribbon...They are such powerful and haunting objects, made all the more magical to me considering this astounding serendipity.
The tokens were collected from "exposed and deserted young children" between 1741-1760 at the Foundling Hospital started by Captain Thomas Coram. They were recorded as identifying information in case a parent wanted to reclaim their child, which happened only on rare occasions. The tokens were also saved as a record in defense of mothers who were accused of having disposed of their babies by murdering them.