R.P.'s T.O.I.s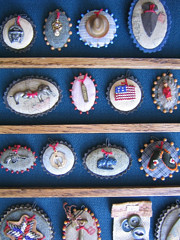 R.P.'s T.O.I.s
Originally uploaded by notionnanny.
Yesterday I spent a lovely day working with Rebecca Purcell, an artist in New York.
Theorizing at the early age of three or four that objects have a soul, Rebecca has spent her life developing a complex numbering system based on aesthetic preference.
A number three, for example, represents the motto "Necessity is the Mother of Invention." Things that fall into the category of number three include sewing, ploughs and other old worn tools, linen, barley candy, homemade bread and baskets. According to Rebecca, Notion Nanny is a three.
She started making these "tokens of identity" after reading a fascinating article about a man in the early 1800s who collected the precious objects found pinned to orphaned children. When she showed these to me, I knew they would be perfect traveling charms for the Notion Nanny project.
A collection of "nines," they represent things associated with a brave new world, the idea of just starting out, and utopian ideals.