Red Ribbon Key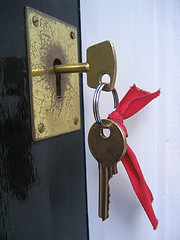 Red Ribbon Key
Originally uploaded by notionnanny.
Today I arrived in London for the "second phase" of Notion Nanny. I am very lucky to be house sitting in a beautiful 19th century brick house, originally built for the workers at a local brewery.
I won't tell you whose house it is, but I will say that there is a beautiful garden and an amazing library here. Why would I ever want to go out into the rain to peddle my wares?