A Peddler Doll's Basket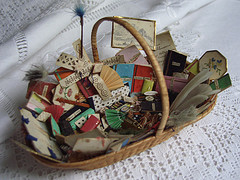 A Peddler Doll's Basket
Originally uploaded by notionnanny.
This picture of a miniature peddler doll's basket has made its way to me from cousin Jo of mother Debbie of B+B curator Sarah Carrington.
Either separated from its peddler owner somewhere along the way, or a sculpture in its own right, the basket holds over 50 objects and messages, including, at center, a book called "Devotion."