Bonnet in Progress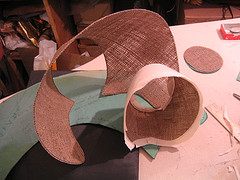 Bonnet in Progress
Originally uploaded by notionnanny.
This is the bonnet-in-progress I am making with London-based milliner Jane Smith. It is comprised of sturdy wire-edged buckram, covered in stitched calico, and will be finished with a black glazed cotton.
I decided on a wide-brimmed style of bonnet from the 1840s, which, though appropriately in keeping with the peddler dolls I have seen, will be slightly anachronistic in terms of the more American Revolutionary War-era style of the rest of the Notion Nanny costume.
Jane and I talked about anachronism, and the difference between a historical reproduction and a prop. We shared our experiences of working with historical re-enactor clothiers, whose standards of authenticity require an attention to detail so exceedingly time-consuming and laborious as to render it stressful beyond its worth in pay per hour. Here again, these economies rear their heads. Whereas it wouldn't be financially feasible to make hats to re-enactor standards in the film world, it is however the norm to make multiple copies of any given actor's costume, the same couture garment made over in various states of wear: one new, one rumpled, and one worn completely to shreds. (And the job of distressing the costumes is a whole job that belongs to someone.) Then again, I should say that I have heard that re-enactors are increasingly called upon in the film industry, for both their clothing expertise and acting. The re-enactors have done their homework, often teaching filmmakers how to tell the story accurately.